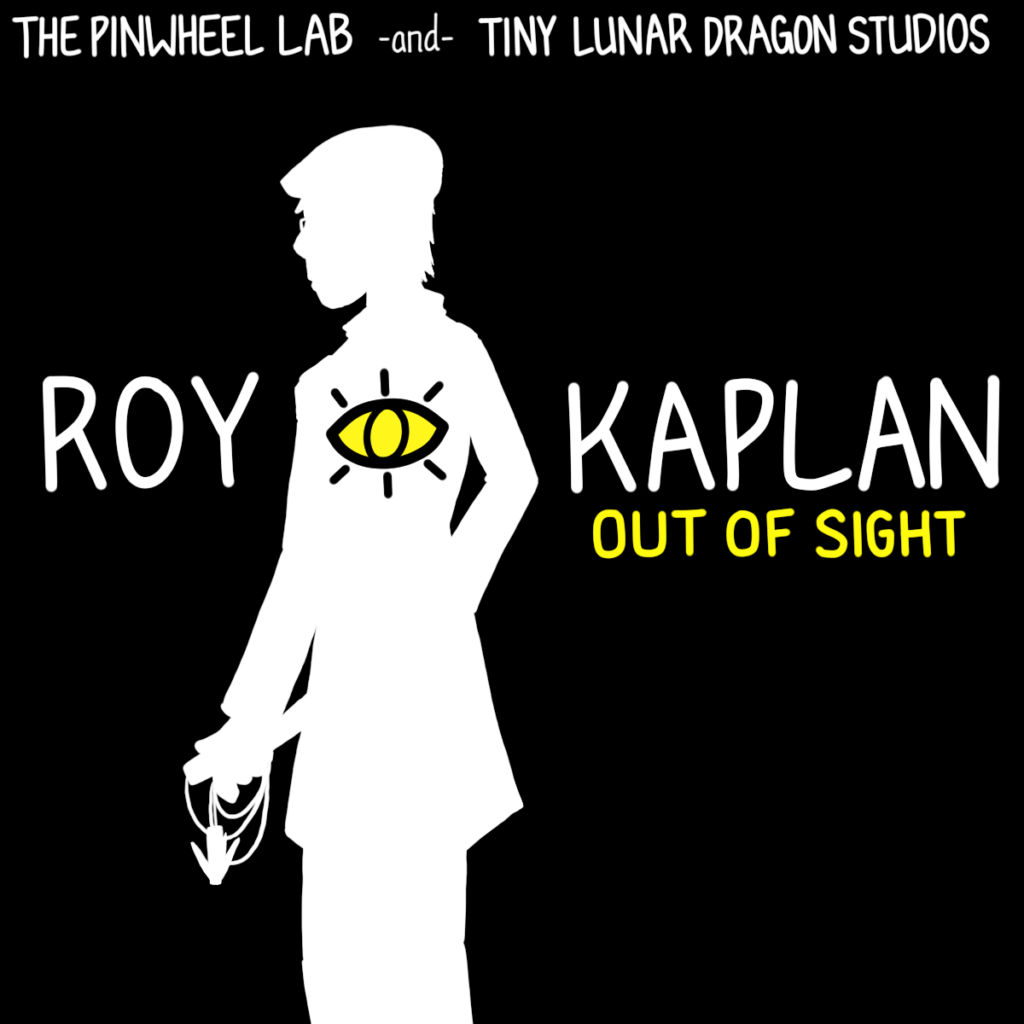 Cover Art for Roy Kaplan: Out of Sight. Art by Jesse Peng.
What is Roy Kaplan: Out of Sight? In short, it's an audio detective drama taking place in the far-flung cyberpunk future, featuring Roy Kaplan, our titular private investigator, burglar, and psychic. Over the course of Out of Sight, Roy solves all sorts of cases from robot murder to phony psychic scams to petty theft by talking to ghosts and breaking into places he probably shouldn't be going.
I've teamed up with Tiny Lunar Dragon Studios, which is currently running the podcasts Ultimate Tier List and Floodgate. They're helping to bring in voice talent, music, and sound design to make my scripts real, and we expect to have a 12-episode season that will launch in mid-2022. I'm really excited to get this one out there for everyone to listen to.
That's everything you need to know if you're just interested in the podcast release information, but if you want to know more about the backstory on Roy Kaplan, read on!
So, hey! I haven't been around in a while, but I'm back and better than ever with a new project!
Technically speaking, Roy Kaplan isn't all that new. I originally had the idea in February of 2019 (or at least that's what the Discord logs say) to write a story about a psychic detective in a cyberpunk setting. We (my friends and I) workshopped the idea a bit until settling on a psychic detective named Roy Kaplan who had an antique Smith & Wesson revolver that was haunted by a ghost that was smarter than he was. In the original iteration of the story, Roy's psychic powers were limited to telekinesis and his skills were mainly burglary, while Wes was the one who could actually talk to other ghosts and had the knowledge and experience to solve mysteries. Even back in those early days, the case I wanted to write was a conspiracy about anti-gravity racing (this was around the time I was playing a lot of Redout), and the intention at the time was to write a series of short stories, along the lines of the Sherlock Holmes stories. I tried writing part of what would eventually become Bomber Blackout but it was pretty awkward and I didn't really like how it was going, so I dropped it.
The shift from prose to radio drama occurred not too much later, when I had the idea listening to Richard Diamond, Private Detective episodes on old-time radio, and went, "hey, this would probably be a better format for my detective short stories!". A lot of changes had to be made in the transition to audio–Wes's existence was simplified to being Roy's ghost roommate and confidante, Roy was made more generally self-sufficient, and I gave him the ability to talk to ghosts directly. Not long after, the script for the first episode, Bomber Blackout, was ready to go, just about the right length for a 30 minute episode.
At that time, the hope had been to sort of cook together the script as a home project, with friends doing voice acting and someone splicing it all together–I'm decent at reading, so then as now I'd be voicing Roy. Back then, the title was simply Out of Sight, meant to be a reference to stealth (with Roy's burglary) but also things unseen (with ghosts) but also the phrase "out of sight, out of mind" (with psychic powers). I drafted a few covers at the time, the final result being the one below: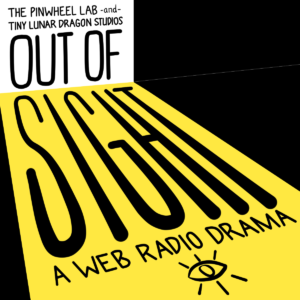 I still really like this cover for the original Out of Sight and I kind of wish we could still use it. There are reasons why I decided to go with a different design for our actual cover, but that's a blog post for another day.
Anyways, I wrote a few scripts and we never got anywhere with recording (you would have heard of it before now if I had), and the project went on the backburner. That would be the end of it until last year when Luna (who manages Tiny Lunar Dragon Studios) approached me with the idea of actually getting some cast and a sound designer and everything to put these scripts to use. Things got a little delayed because of extenuating circumstances, but now we're getting voice work together and making this drama a real thing.
Later on in the process, I was informed that Out of Sight was terrible SEO, which is true, so we decided to make the series name Roy Kaplan and then have Out of Sight as the first season name. Maybe it's ambitious to say we'll have multiple seasons, but it's nice to be optimistic.
I wouldn't say I'm an amazing scriptwriter, not the way that I would say I'm good at writing stories–I just don't have that experience. I mostly wrote a couple of scripts in high school for class, and not much else. There's a lot of considerations when it comes to writing scripts compared to writing, say, a novel. At this time, I've finished writing all 12 episodes of Out of Sight, which doesn't sound like a lot, but it clocks in around 66k words. That's 6 hours of content! It sounds a lot more significant when you say it that way.
It's definitely been a learning process. Fundamentally, screenwriting for radio dramas is a lot different from writing prose, because you need to tell your entire story through dialogue. Even with voiceover narration, it's got to be the dialogue that carries everything, and the inability to see character's actions means you have to do little tricks to be able to make sure people know what the hell is going on–things like having characters refer to each other by name at scene establishment, or the "oh, is that a gun?" trick that happens a lot in shows like Richard Diamond. It's a skill, for sure–the same way you have to learn how much (or little) of a character you need to show in a comic panel to make it clear what's happening, or how to imply things in prose so readers can see what's going on in the white space of the narrative. I don't know how well I did–I won't until everything's been recorded and cut together. But I like to think I did an all right job.
The other thing I had to learn was how to write plots for 30 minute episodes–you want a mystery with some amount of complexity, but you don't want it to be too simple, either. I think there's an inherent desire to make mysteries convoluted to make the detective and criminal seem more clever, but when it comes down to it, a 30 minute episode clocks in a bit over 5k words. There just isn't the space for a lot of complexity–as long as there's enough intrigue, as long as the logical throughline works, you're fine. I've found that you can fit a decent number of investigative steps in 30 minutes, but not every episode needs that. A lot of the mysteries are relatively straightforward, which gives more room for things like character interaction and world building and all those other exciting things relating to the bigger picture. I think it's good to have episodes with different densities.
How far will we go with Roy Kaplan? I don't know. It kind of depends on the response we get–both in listeners and financially, because at this point we're absolutely operating at a loss. But in the event we decide to continue to future seasons (meaning, if we get enough response to be able to say we're at least not throwing time and money into the void) I've got plans for how the overall story will develop from here.
Anyways, I'm really excited for Roy Kaplan. It's a project that's been a long time coming, and I hope everyone enjoys it as much as I've enjoyed working on it :)