Down these mean streets a man must go…
Are you in the market for some cyberpunk paranormal detective action? Consider Roy Kaplan, a detective audio drama inspired by old time radio classics like Richard Diamond but taking place in the cyberpunk future!
If you need something found or something found out, Roy Kaplan is the man for the job. With the ability to talk to ghosts and bypass any lock, there's no mystery that's beyond his reach, and no trouble that's big enough to scare him off. Kaplan, with the help of his ghost roommate Wes, navigates his hostile cyberpunk city life to investigate missing persons, blackmail, murder, and everything in between.
I'll be posting occasional blog posts here about Roy Kaplan, so if you're interested in the behind-the-scenes or the writer commentary, you can watch out for those. Otherwise, everything you want to know should be right here on this page!
Out of Sight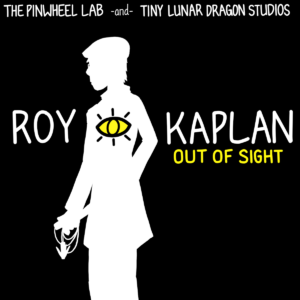 In Out of Sight, Kaplan will have to solve all kinds of mysteries, from the petty scams to the conspiracies to the diabolic murders, and come face to face with parts of his own past. But as Roy keeps an eye out for trouble, he'll soon find there's trouble with an eye out for him…
I'm teaming up with Tiny Lunar Dragon Studios (the producers of Ultimate Tier List and Floodgate) to bring Roy Kaplan: Out of Sight to listeners. We're cooking up a season of 12 episodes, all about half an hour long, set to be released by the end of 2022. The format is episodic, so each mystery is self-contained.
I'm the scriptwriter for all the episodes, as well as the voice for Kaplan. Other roles are voiced by members of Tiny Lunar Dragon Studios and voice actors from the community.
Production is currently ongoing. As scripts get finished up and ready for production, we're looking for (paid!) voice talent and putting out casting calls on the Tiny Lunar Dragon Studios Twitter. Keep an eye out there if you're interested in joining in!
Links
Since Roy Kaplan is still in progress, a lot of these links might be empty for now. But it's where you'll want to be when things go live!
Tiny Lunar Dragon Studios Twitter – All our casting calls will be here!
Roy Kaplan Podcast Twitter – Currently empty, but once things launch, it'll be more active.
Roy Kaplan on Tiny Lunar Dragon Studios – Currently a redirect, but once the website is up and running we'll have more information here.