Happy November 1st! In case you don't know, the first Friday of November (today!) is Fountain Pen Day, and incidentally, two years ago on this day, I got my first fountain pen and ink–the ever-reliable Pilot Metropolitan and Iroshizuku Ku-Jaku.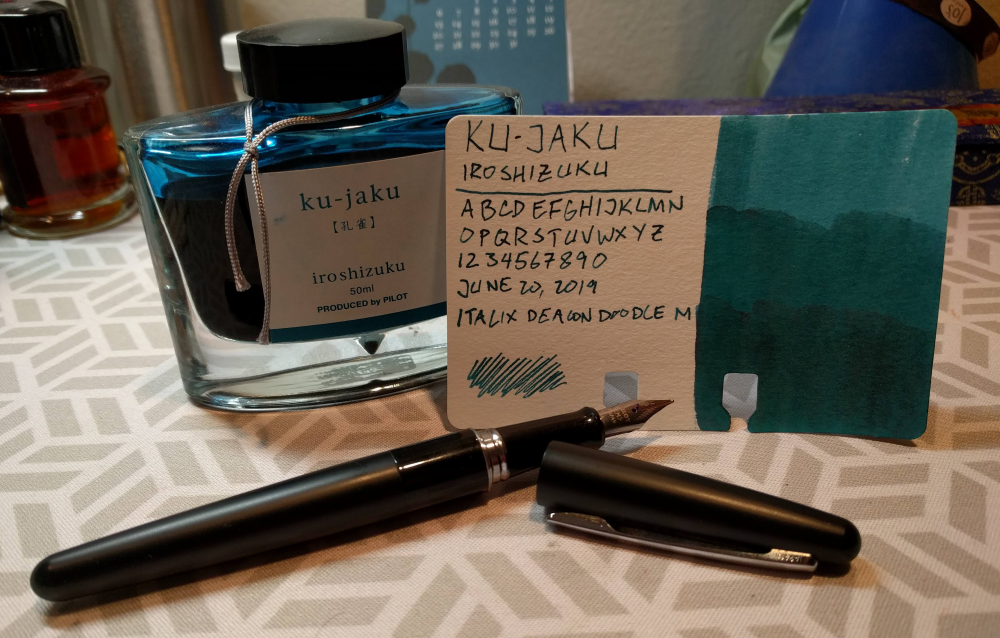 Iroshizuku Ku-Jaku and my first Pilot Metropolitan. How far I've come…
So if I'm going to talk about fountain pens, why not today?
What's happened in two years? Well, I've accumulated a respectable collection of both fountain pens and inks, and I recently finished making swatches of all of the bottled inks I own!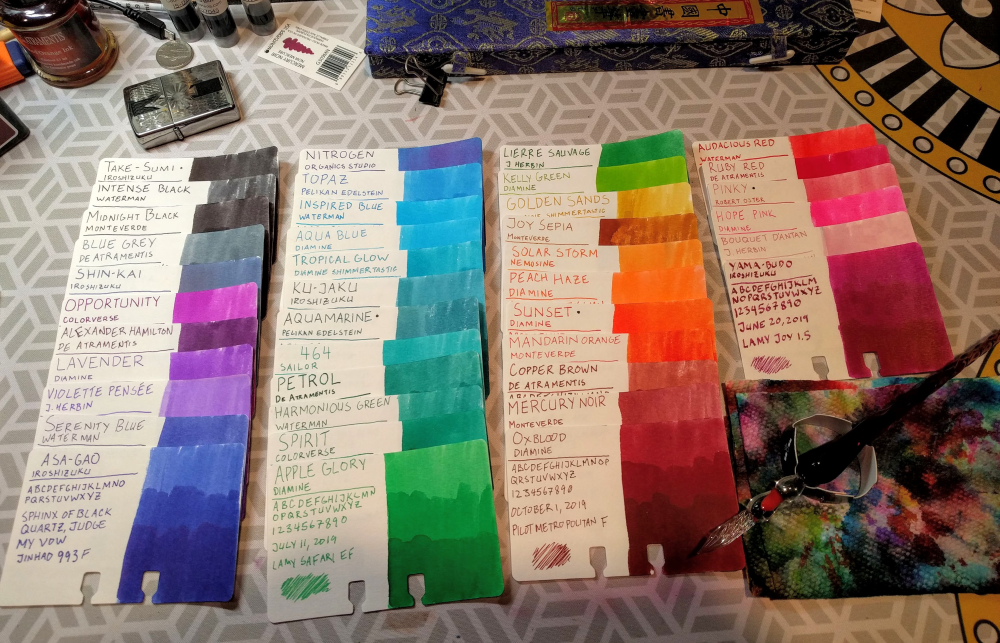 All my swatches, with a cameo from one of my glass pens.
Look at all of them… I'm so proud.
Each swatch card contains the name and brand of the ink, a small sample of writing in the ink, the date of the swatch card, and the name of the pen used, then an ink swab with one, two, and three passes. I'm using Col-O-Ring's Col-O-Dex cards for use in a rotary card holder, so I made sure the most important information on the swatch card would be visible just from the top–name, brand, and a single swab. As you can see from the picture, it also makes it easier to compare a lot of cards next to each other.
It's surprisingly time-consuming to make swatch cards. I have to wash the pens out in between changing inks and I prefer not to have too many pens with ink in them at one time (about six is my maximum, since that's how many I can fit in my pen case) to keep from damaging them from disuse. It's taken about half a year altogether to get all my thirty-some bottles of ink swatched, though I'm still working on swatching ink samples (the ones marked with a dot next to the name), and since I'm getting the Diamine Inkvent Calendar, which has 25 bottles of ink, I'll have a lot more work to do soon enough.
I think it's really nice to have swatches for all my inks–it makes it a lot easier to see what ink colors I do and don't have, and it really helps to compare colors and pick out what I want for when (if) I ever do ink art. Because when you have this many colors and milliliters of ink, there's a lot of art you can do.
As for the pens, I got myself a box to store my pens in a nice and safe manner: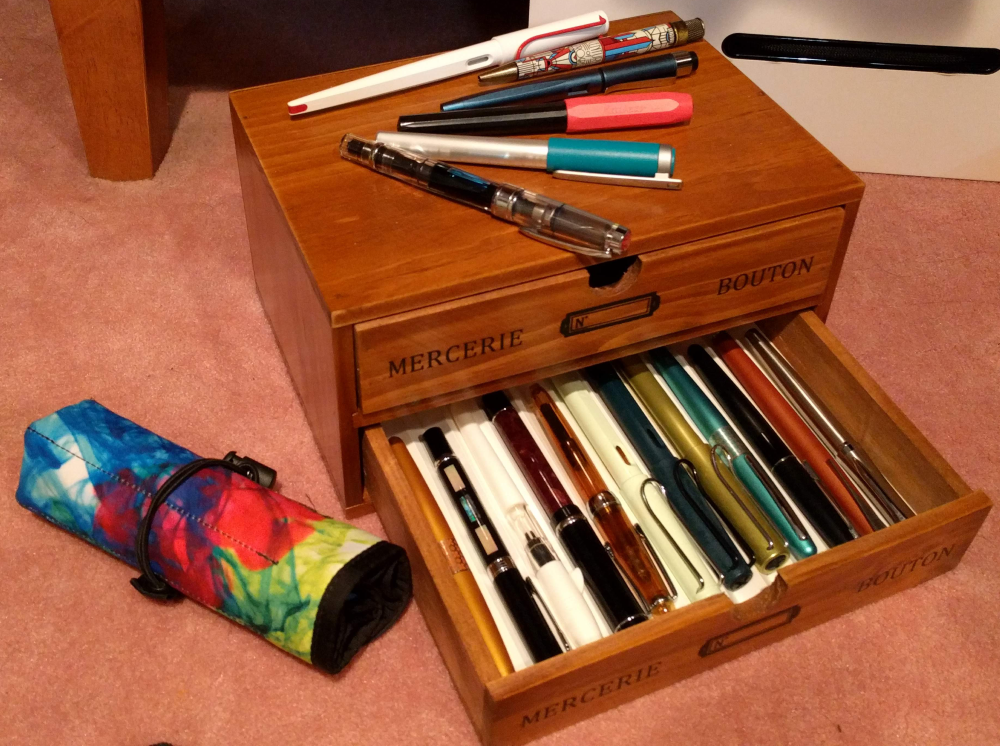 Pen box, featuring my pink carpet and pen wrap.
It's not the most beautiful pen storage–the tray's made from folded paper–but it keeps them all together and from getting damaged, which is the important point. Later on, I might add some felt or another pen tray to increase my storage, but it'll be a while before that's really necessary.
Most of my pens are entry-level in the sub-$30 range, except for a few exceptions like the TWSBI 580 Diamond or the Lamy Studio–which I realize is a sentence that sounds absolutely nutty if you only ever buy and need 20 cent ballpoint stick pens.
So I guess I should answer the question: what's the big deal with fountain pens?
Strictly speaking, there's nothing that's especially special about fountain pens. They are, after all, just pens. Very expensive pens, admittedly, but pens nonetheless. Getting a fountain pen is unlikely to change your life. But I like fountain pens because I do a lot of stuff that still requires a lot of hand-writing. I take my notes by hand and plan things out on paper and I've always preferred doing art in ink because it frees you from the obligation of having to constantly fix lines–you just have to draw and move on. And since I still do a lot of stuff that's hand-written, it's nice to use something that makes it easier and lets me use more fun colors.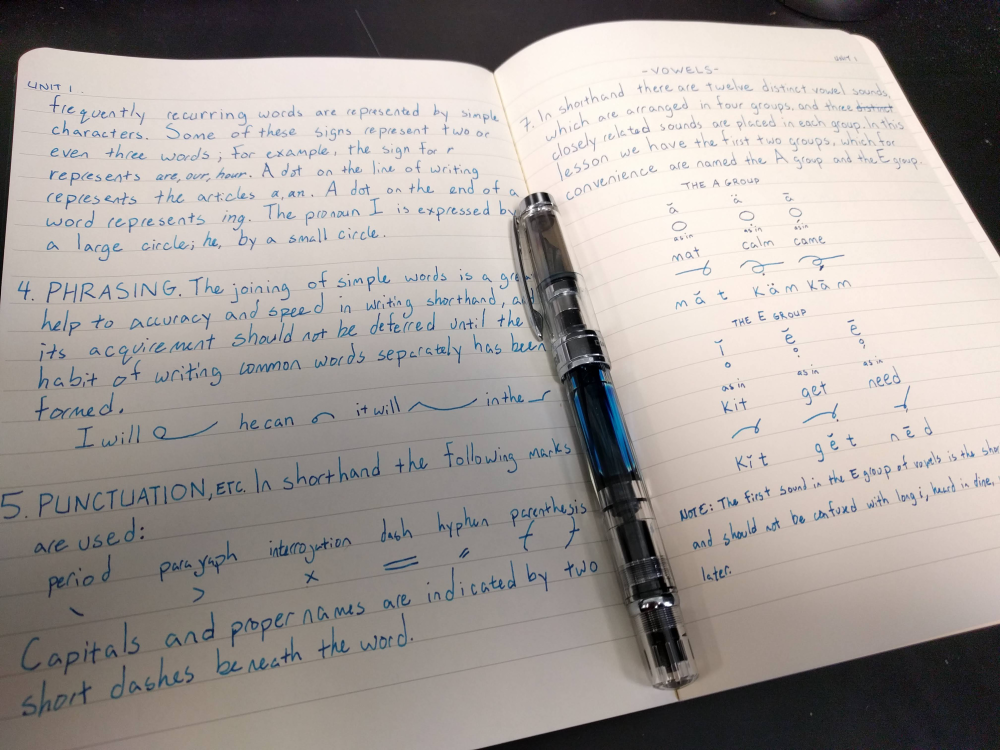 For example: I'm learning shorthand, though that's a post for another day.
I like fountain pens because they give you a lot of control over your writing experience–you can choose your inks, you can choose your pens and adjust your nibs, and when a fountain pen works well, it really does work well. It writes smoothly, it doesn't skip, you don't have to press hard on the paper, and it looks good. If you write for really long periods of time, you'll probably do better using a fountain pen compared to a pencil or, god forbid, a ballpoint.
It's a bit of a monetary investment–I've personally spent quite a lot of money on pens and inks and notebooks. But if you're just interested in getting one pen and one ink, that's about thirty dollars total when you're on the lower end, and good notebooks that can actually handle water-based inks without lots of bleeding are usually around $6-12 a pop (unless you get Apica, which is more like three dollars). That's a lot more expensive than your 15 cent 70 page spiral notebooks, but also, like. How often do you actually finish a notebook?
It's probably not worth the investment if the only hand-writing you do is to take down an occasional phone number or address, but if you do a lot of writing, or would like to, maybe try a fountain pen and see how you like it. Some people use their pens in stuff like bullet journals or other fancy organization stuff, but I'm not really about that. I use my fountain pens for taking notes and doing other written work, and it's really nice to have luxury products that actually see use–and other people act like you're some kind of wizard when they see you use a fountain pen.
Probably by this time next year, I'll have some more exciting things to show for my fountain pens. More colors, certainly, and a few more pens as well. But maybe also some art! I bought a few watercolor brushes and some dip pen materials, so maybe soon it'll be time to break out my inks for something a little more artistic.