Roy Kaplan Navigation
This is the Roy Kaplan page on my website. All the links you could possibly want should be on here.
I'll put a summary of the show here and some blurb stuff, too.
General Links:
This is where we would have links to the twitter (assuming twitter still exists when this thing releases), patreon, discord, etc.
---
Season 1: Out of Sight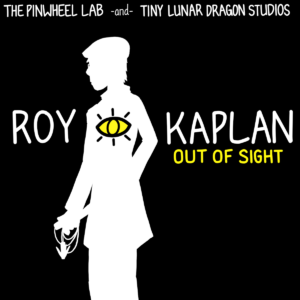 If you need something found or something found out, Roy Kaplan is the man for the job. With the ability to talk to ghosts and bypass any lock, there's no mystery beyond his reach and no trouble that's big enough to scare him off.
In Out of Sight, Kaplan, with the help of his ghost roommate Wes, takes on mysteries from the missing persons to the murders and everything in between. But as Kaplan keeps an eye out for trouble, he'll soon find there's trouble with an eye out for him…
01 – Bomber Blackout
[Audio] [Transcript] [Jesse's Commentary]
02 – Murder By Proxy
[Audio] [Transcript] [Jesse's Commentary]
03 – Bait and Stitch
[Audio] [Transcript] [Jesse's Commentary]
04 – Dead Man's Safe
[Audio] [Transcript] [Jesse's Commentary]
05 – Foul Spirits
[Audio] [Transcript] [Jesse's Commentary]

06 – Random Access Memory
[Audio] [Transcript] [Jesse's Commentary]
07 – Family Dysfunctions
[Audio] [Transcript] [Jesse's Commentary]
08 – Sleep Well, My Darling
[Audio] [Transcript] [Jesse's Commentary]

09 – Calling Card:
[Audio] [Transcript] [Jesse's Commentary]
10 – Doctor's Orders:
[Audio] [Transcript] [Jesse's Commentary]
11 – How To Date Your Dragon:
[Audio] [Transcript] [Jesse's Commentary]

12 – Memento Mori:
[Audio] [Transcript] [Jesse's Commentary]